Political festivals: rooting power on the left
Building a strong sense of collective aspiration is an essential part of any successful leftist movement. Creating moments of shared celebration can help nourish that aspiration by strengthening the human connections from which grassroots-led movements draw their power.
Picture half a million people at a festival organized by a left-wing newspaper. You might find your mind conjuring up images of another era, when mass political mobilisations seemed more frequent. Now think September 2022 on the outskirts of Paris. Every year the Fête de l'Humanité gathers approximately 500,000 people for three days of concerts, debates and general festival fun. The event, run by left-wing daily newspaper l'Humanité, is the largest weekend festival in France.
The long-standing Festa do Avante! in Portugal, run by the official newspaper of the Communist Party there, brought together 40,000 people last year.
In Belgium, Manifiesta the festival of the left wing PTB (Belgian Workers' Party) draws increasingly large crowds. For both these parties, mass festivals are a central plank of a political strategy which is bearing fruit. In all three of the countries mentioned, parties left of the historic social democratic parties are a major political force, pulling the public debate to the left.
What can we learn from these successful political festivals?
Lead with fun
The fact is that most people come for the headline acts, for the day out with the kids and generally for the craic. Most people don't start out as highly committed members of a party and the festivals' promotion centres on fun.
Setting festival fun to a backdrop of social justice associates the two and opens up a positive pathway into left-wing movements. Lived experiences, particularly those rooted in solidarity, can constitute stepping stones towards the left. By cultivate an atmosphere of enjoyment and welcome, these festivals build on lived experiences and pave that leftward path.
The left correctly puts much energy into exposing the exploitative symptoms of spiralling capitalism. But rather than bringing people into the struggle, always leading with the bad news can be counter-productive. Taking on the world's problems is a daunting prospect that can often be demobilising. Instead, festivals can provide a moment of positivity from which to draw on the instinctive joy of community to create solidarity and give people the courage to demand justice.
You might wonder how a low price festival can compete with investor-backed, advertisement-enhanced for-profit festivals. As the army of volunteers and artists who contribute to the movement by donating or discounting their labour demonstrate, there is an often dormant willingness to contribute which only needs to be given an appealing outlet.
As with all political communication, the key to winning people over is to show, not tell. Perhaps the most important advantage that left festivals have over for-profit festivals is that they exude authenticity and agency. That's something that you can't can and sell. In a highly individualised society, in which loneliness and alienation are systemic, demonstrating meaningful community has powerful gravitational pull.
Uniting fronts
"Money speaks for money, the devil for his own. Who comes to speak for the flesh and the bone?" As Billy Bragg suggests, a left that aspires to challenge the status quo cannot rely only on establishment-controlled tools for political education. While the left can vie for airtime, it cannot count on mainstream nor even social media to propagate and lastingly anchor its ideas. Instead, we must cultivate what the left has always relied on: people power. Nourishing those poles of community and federating them under one massive festival tent can fuel that vital power.
Having seen Manifiesta from up close, I witnessed the energy put into creating spaces for established communities to shape the festival. Feminist associations, youth groups and trade unions are each allocated whole sections of the festival site and are given free reign over both the content in the debate tents and the flow in the beer taps. It's the same story with the regional party structures, international solidarity groups and sister parties from abroad.
Creating a space for each of these communities gives their members a chance to regroup and catch up after the summer break (interestingly all these festivals take place in early September). That backdrop gives the whole place the feel of a giant club reunion.
Bringing all these fronts together also embeds a sense of convergence and unity. Beyond a tool for strengthening a specific party, it felt to me that Manifiesta provides the broader left with a platform to connect and exchange. Creating and strengthening links between people involved in parallel struggles lays the foundation for coordinated action to take on the challenges of tomorrow.
Sowing the seed in Ireland
Left Bloc's first edition of Scoil Chois Claí, Ireland's new annual political festival, was a resounding success by all accounts. Next year's edition promises to be bigger and bolder as yet more people answer the call. We can draw on the wealth of experience from abroad, but it'll take our active commitment to make it a success.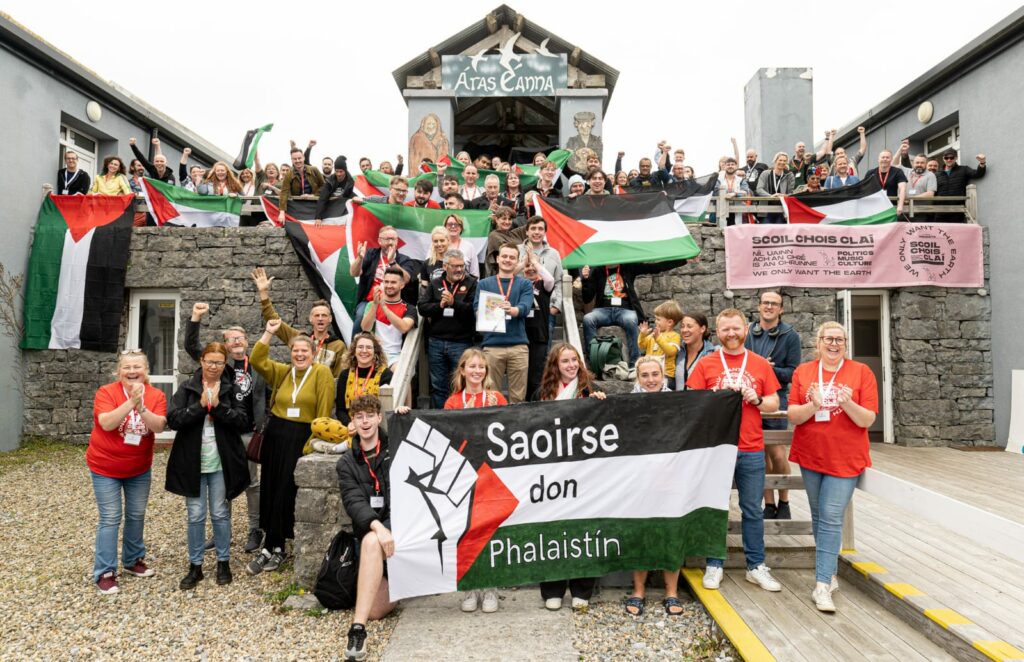 I missed the first edition but come September 2023, I know where I'll be. Donning my volunteer tee-shirt and doing my bit to "be the change". The seed has been sown. Now is the time to grow the roots of collective power.
Article by Theo Morrissey
Exploring examples of impactful movement building tactics and trade union communications, Theo aims to highlight lessons that can be drawn from social justice movements across Europe. Having covered trade and development issues while working as a communications officer at the International Trade Union Confederation, he remains connected with the struggle to change trade rules to make corporations accountable to working people. He is currently director of communications at UNI Europa, the European federation for trade unions of workers in the services sectors and is based in Brussels, Belgium. He writes for Left Bloc in his own name, not that of his employer. You can find him on Twitter @UnionsTheo.